Team Biography
Samrat Basak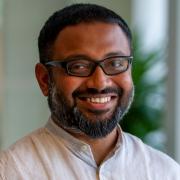 India Advisor, WRI India
Samrat Basak is a Cities4Forests India Advisor and the Director of WRI India's Urban Water Program. In this role, Samrat leads the urban water team in India to execute action/implementation research programs, technical advisory supports, policy development support, innovation support, multi-stakeholder outreach and engagement with key decision-makers/actors such as national, sub-national and city governments, utilities and municipal service providers, business and the private sector, civil society, community-based organizations, local and international research institutes, academia, donors, bilateral and multilateral agencies to identify and forecast urban water challenges and develop science-based and evidence-driven solutions to achieve resilient water outcomes for all. Samrat's current work focuses on water prudent urban development; improvement of citywide climate-resilient, inclusive and sustainable access to WASH and healthy spaces; and data-driven urban water planning and decision-making to assists cities in becoming low-carbon, livable and resilient global cities.
Samrat has over 17 years of experience in working on/ managing water projects across India, Sri Lanka, Bangladesh, Pakistan, Nepal, Kenya, Nigeria, Senegal, Ethiopia, Egypt and Saudi Arabia through his earlier employment with ERM (Environmental Resources Management). As a thought leader in corporate water management, his work helped to drive sustainable business growth as well as managing business-related water risks in a water-finite world. Samrat has assisted numerous companies across food and beverage, power, manufacturing, chemical, real estate sectors as well as a number of financial institutions and investors with water risk assessments, risk mitigation and water strategy innovation. He has technical competence in sustainable and resilient water infrastructure planning, water vulnerability assessment, water sustainability/water stewardship framework development, hydrogeological and hydrological assessment, watershed assessment, water harvesting and aquifer recharge, characterization and remediation of contaminated surface water bodies and groundwater, flood risk assessment and data visualization.
Samrat holds a master's degree in Hydrogeology from the University of Reading, United Kingdom and a second master's degree in Applied Geology from the Indian Institute of Technology, Kharagpur. He was the recipient of the prestigious Felix Scholarship, as part of his master's program in the UK.