Story
Rio Branco Lets Graffiti Rule The Streets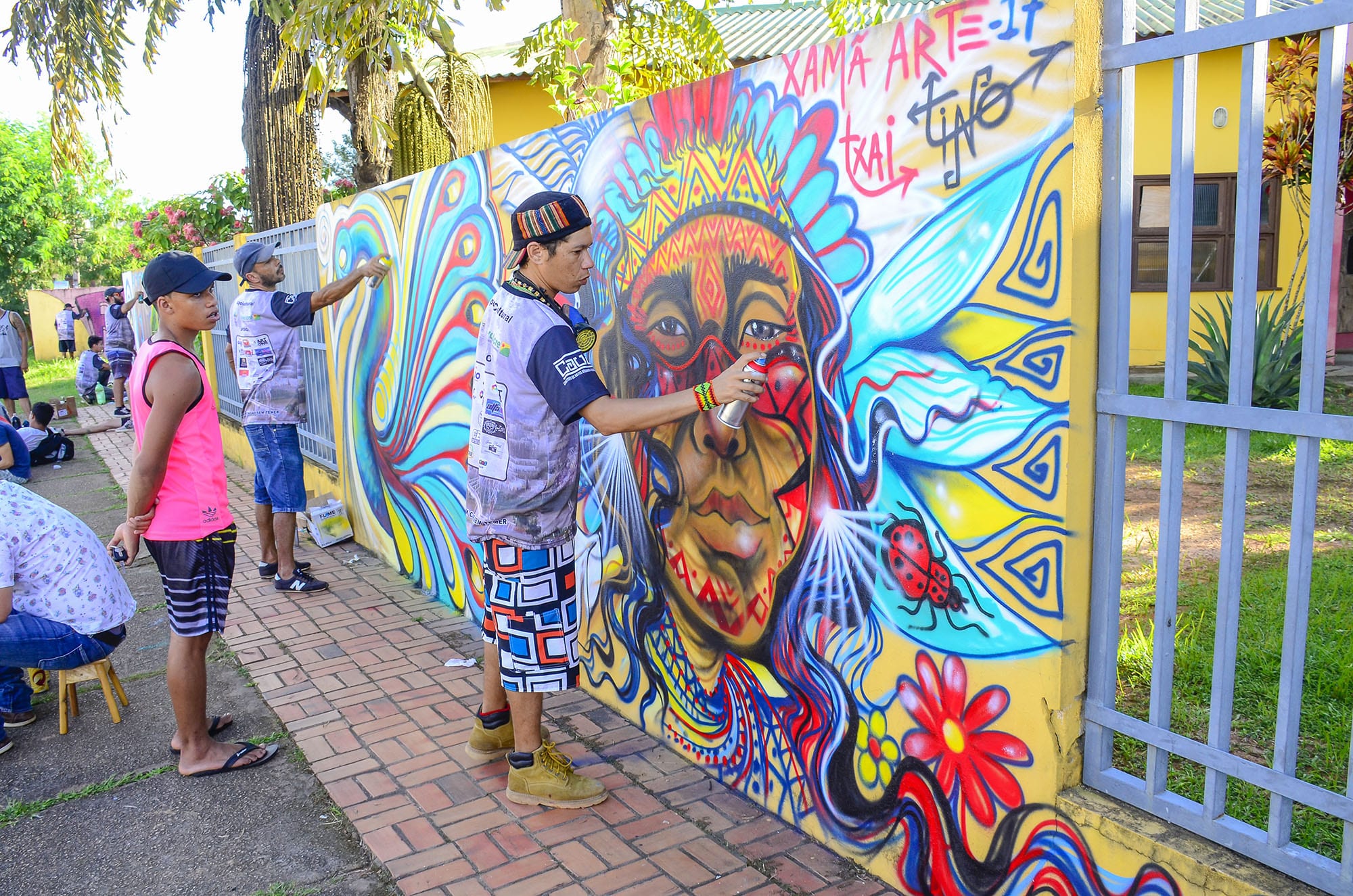 Urban culture is important to Rio Branco, since 2007 the city has managed to bring together urban artists in hip-hop, graffiti, break, rap, skate, artistic-cultural-sports and have them play, draw, dance and move around the city.
Urban Arts Acreano (CAUA) was created in 2017 and pushed for the first RB Graffiti, supported by City Hall. The event brought together artists from Acre and the states of Rondônia, Paraná and, from the neighboring country, Bolivia.
In 2018, the Graffiti Municipal Law (Law No. 2,283) which regulates the use of urban space for urban art like graffiti made this art legal in Rio Branco. In the same year, the second edition of RB Graffiti, organized by CAUA supported by several public and private institutions, brought together more than 80 artists from 16 Brazilian states and 7 countries: Bolivia, Chile, Colombia, Peru, Ecuador, Italy and Nicaragua. The artists were invariably young people, a great number of female artists included, who seek to transform and revise urban space through art.
In its third edition, in 2019, more than 100 people from 17 states and 6 countries participated: Bolivia, Chile, Colombia, Ecuador, Mexico and Venezuela. The event was replicated in the second largest city of the state of Acre, Cruzeiro do Sul.
RB Graffiti always pays homage to the Forest Peoples and promotes a Culture of Peace. REFLORESTING PEACE was the theme for 2019. Once the art is made, it becomes one with the street, for those who pass through it, it begins to suffer alterations and interferences until it disappears, erased by time, or gives way to new art. The city changes every day and the graffiti changes with it.
In Rio Branco, graffiti tells us what we have at its deepest: our identity. Urban art now translates and represents forest themes and reminds us that we are surrounded by 14 indigenous ethnic groups, hundreds of streams and rivers, flowers, leaves and logs.

Sérgio de Carvalho, Director of the Municipal Foundation for Culture, Sport and Leisure Garibaldi Brazil
In 2019 and with the intention of recognizing the work of urban artists and their contribution to the City, Rio Branco City Hall launched the book "RB GRAFFITI". A work that seeks to portray the spirit of society through its walls, creating sensations and meanings for those who pass by.
Graffiti is characteristic of its brevity. This is why it is so important to re-register, document the panels, and collaborate with the graffiti artists. The book is a way of recognizing, not forgetting how these boys and girls embellish, humanize and exercise their critiques of contemporary problems. The book multiplies the duration of the good that art does in our city and for us citizens, who build our lives and our possibility of being happy in Rio Branco.

Socorro Neri, Mayor of Rio Branco