Story
Nature-Based Solutions: Greater Manchester's response to the 'climate emergency'
Manchester was one of the first cities in the UK to declare a 'climate emergency' in 2019, and since then has developed a comprehensive strategy to improve the management of the regions woods and trees.
Prior to the outbreak of the COVID-19 pandemic, the climate emergency movement, led by Greta Thunberg, Fridays For Future, and Extinction Rebellion, had reached a tipping point, where thousands of people around the world began advocating for change and demanding real action from the government. This led to many governments and cities declaring a 'climate emergency'. In 2019, Manchester launched a 5-Year Environment Plan that sets out to be carbon neutral by 2038. The Greater Manchester Combined Authority's plan acknowledges that mitigating climate change is one of the most urgent and significant environmental challenges for the region and that trees, woodlands, and other forms of green infrastructure are a key part of the solution. Trees and woodlands are part of the fabric of Greater Manchester and provide a huge array of benefits that can help address urban challenges such as poor air quality and flooding. Yet they are under constant threat, whether it's from urban expansion, challenging growing conditions, or from pests and diseases. In recognition of trees as a multifunctional nature-based solution for making the region more resilient to climate risks, the Greater Manchester Combined Authority (GMCA) is working with City of Trees, an innovative and exciting movement set to re-invigorate Greater Manchester's landscape by planting three million trees and transforming underused woodlands. To get the most from trees, they have launched a groundbreaking 'greenprint' that quantifies the incredible value of the 11 million-plus trees across the region, demonstrating the importance of trees to the economy and the well-being of its people.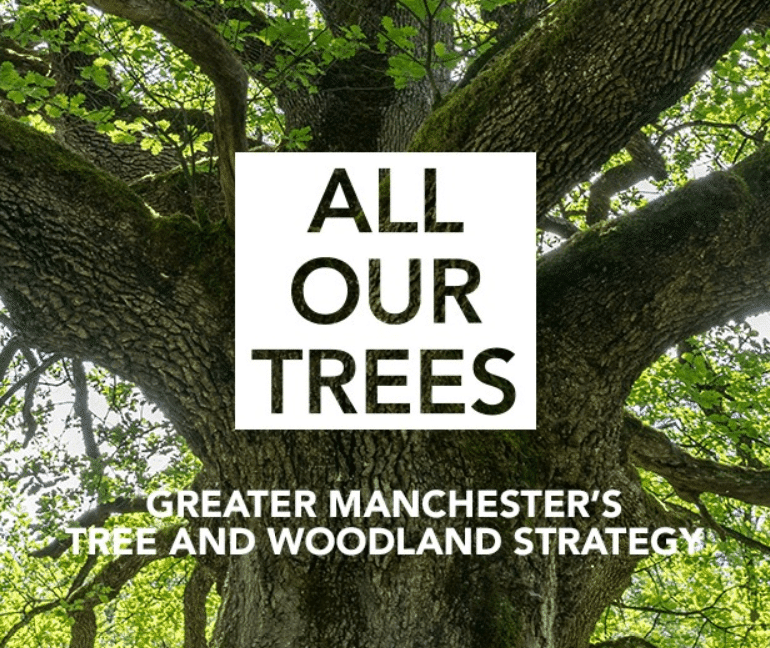 'All Our Trees'
is the tree and woodland strategy for Greater Manchester, that sets out clear objectives on how the region can maximize the benefits of trees in relation to tackling carbon emissions, air pollution, and flooding. In addition, the strategy will be key in helping the GMCA respond to the climate emergency that each of the 10 local authorities have declared. Underpinning the '
All Our Trees'
strategy is one of the largest tree audits conducted in Europe and has enabled the region to better understand the extent, function, and value of the region's urban forest. Listed below are the key highlights from the survey:
Greater Manchester's trees act as a filtration system for harmful air pollutants – removing 847 tons of pollutants each year. This is equivalent to the combined annual emissions from around 2,000 cars each year.
Trees can help prevent surface water and sewer flooding, intercepting 1.6 million cubic meters of stormwater runoff per year – this is equivalent to 35,000 road tankers.
Greater Manchester's trees sequester 56,530 tons of carbon each year, that's roughly the total amount emitted by 5,000 UK homes each year.
They produce 122,450 tons of oxygen each year, enough to sustain around 160,000 people.1
The total benefit to Greater Manchester's from trees is over £33 million each year.
It would cost over £4.7 billion to replace all Greater Manchester's trees.