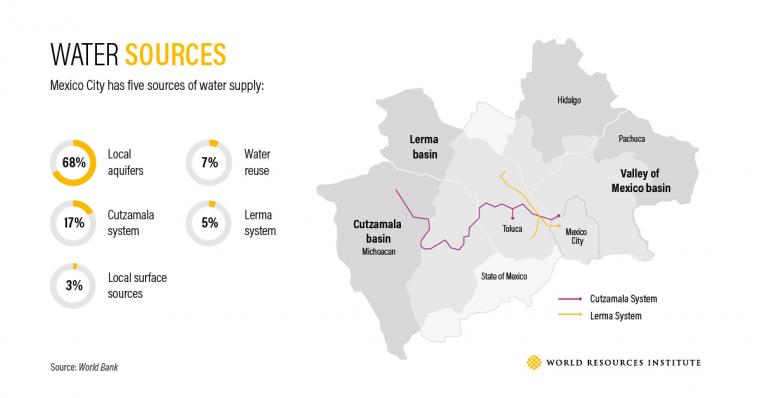 The scarcity of water in Mexico City most affects communities with the highest degree of 
marginalization.
 For example, 
Iztapalapa
, the most populous area in the city, has a water supply deficit of 35%. This results in women investing between one and four hours a week hauling water to their homes. To help mitigate this problem, in 2019 the government of Mexico City implemented the 
Rain Harvest program
 for homes in areas with the greatest water shortages. The program started in Iztapalapa and Xochimilco, and, due to its success, has since been expanded to another six areas. The program helps install rainwater harvesting systems, which capture the rain that falls on roofs of houses. Water is stored in a cistern, which can then be used for domestic purposes. It can also be used as drinking water if given additional treatment. These systems can provide a family with water for
 between five to eight months
 of the year. By 
prioritizing households
 headed by women, single mothers, indigenous people, older adults and people with disabilities, the program aims to improve equity across the board. To date, more than 13,000 female heads of household have benefited — comprising around 65% of installed rainwater harvesting systems.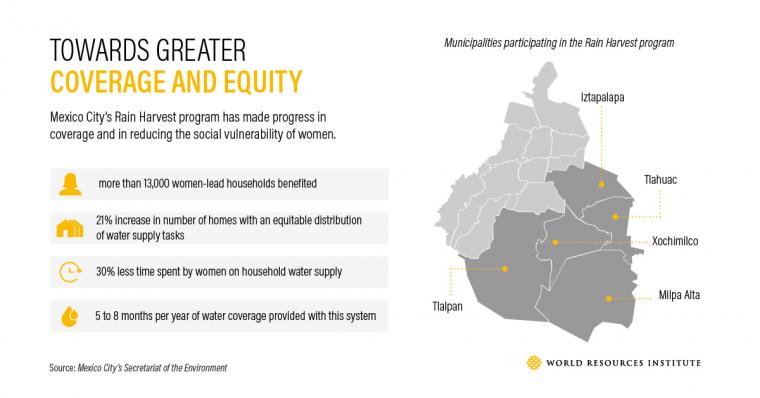 Additionally, the training process for the operation and maintenance of the systems promotes the equal distribution of tasks between men and women. According to the Secretariat of the Environment of Mexico City's forthcoming 
Climate change and care work 
report, the focus on gender equality in training increased the number of homes with equitable distribution of water-related tasks from 34% to 55%. The project has also reduced the time residents spend ensuring adequate water supply for their households by 20% — 30% in households where women have sole responsibility for water supplies.
Towards Equitable Water Resilience
The challenges associated with water represent some of the most important issues we face as a society. Because responsibility for household water management and use often lies with women, solutions that seek to strengthen community water resilience must incorporate an equitable gender perspective. Green infrastructure projects such as Mexico City's initiative have the potential to increase resilience and serve as powerful development tools to address climate change. However, to take full advantage of their potential, cities must ensure inclusive participation in the planning, design and implementation of green infrastructure projects. When done well, communities and city residents can look forward to reduced vulnerability to climate change and a higher quality of life.