Salvador, Brazil's first capital, is working to protect its forests and trees. The city stands out for its leadership on global agenda issues. Already a member of international networks such as 100 Resilient Cities, C40, and the Compact of Mayors, Salvador now joins the Cities4Forests network and is looking forward to sharing their successful experiences, exchanging knowledge with other cities, and harnessing the potential to improve their projects through experts' support.
In 2016, the city, called the capital of the Atlantic Forest, established the System of Environmental and Cultural Value Areas (SAVAM) as part of its Urban Development Master Plan, helping increase the protected areas in the municipality. In addition, the city has a Master Plan for Urban Afforestation and a technical manual for planting native trees compatible with local infrastructure. These documents and other sectoral plans, such as the Atlantic Forest Conservation and Recovery Municipal Plan and the Climate Change Plan, are part of the city's Resilience Strategy, which is included in the "Sustainable City" axis of the Salvador 360 Program.
In 2020, Salvador unveiled a new Climate Action Plan, produced in cooperation with the Inter-American Bank for Development and C40. The plan was also developed with Way Carbon, ICLEI and WWF and with the support from C40 Cities, the UK Government and the German Ministry for Environment (BMU), through GIZ. The Climate Action Plan of the City of Salvador (PMAMC) is divided by four themes– Inclusive Salvador, Green and Blue Salvador, Resilient Salvador and Low-Carbon Salvador – and presents a total of 57 actions to achieve the ambitious goal of making Salvador carbon-neutral by 2049 while being inclusive, sustainable and fair to all residents of the city.
"Salvador is attracting a new kind of interest from the world, due an engagement in expanding and maintaining the green areas in our city and tackling Climate Change. Promoting inclusive, sustainable and resilient living environments is a constant challenge, but the benefits are of immeasurable relevance. Cities4Forests contributes with essential connections for innovative strategies regarding urban afforestation to be effective and lasting."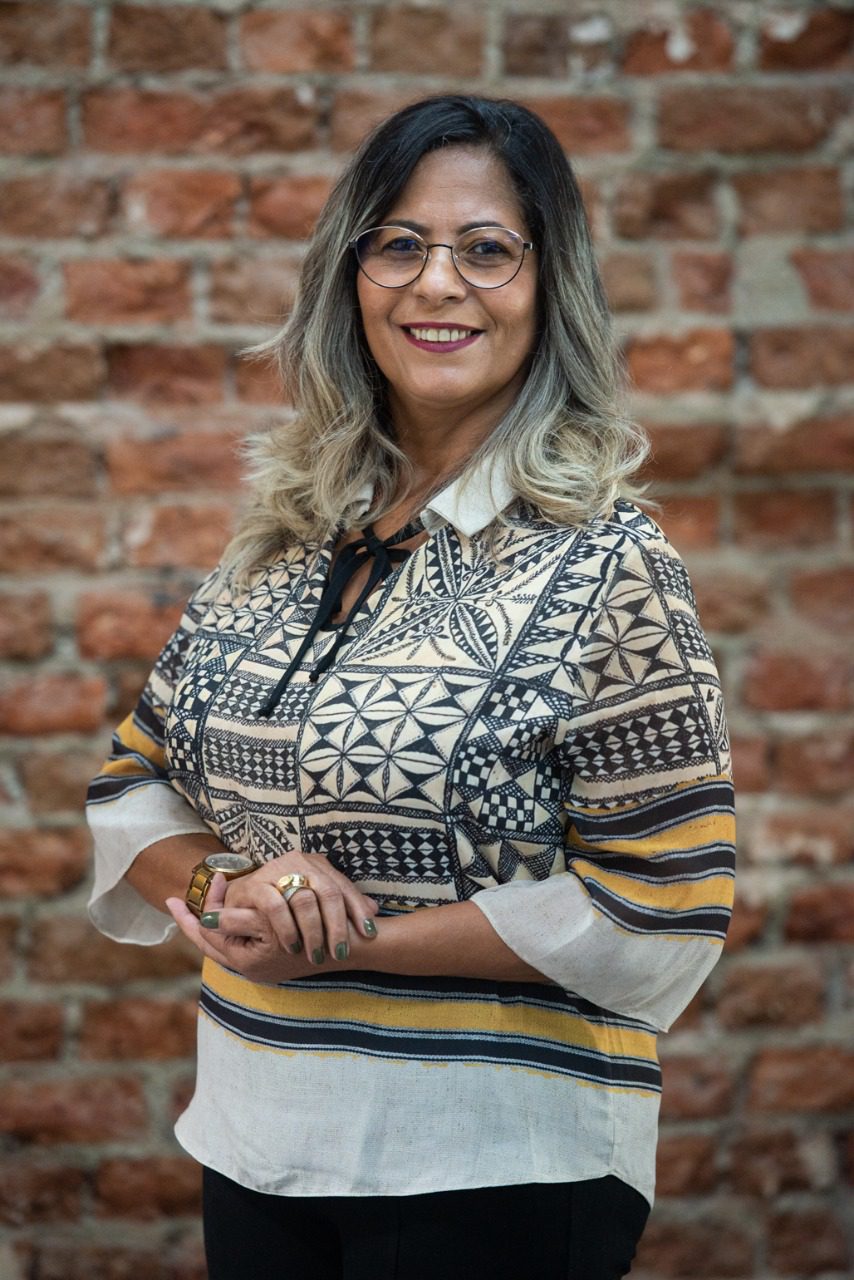 Edna França
Municipal Secretary of Sustainability, Innovation and Resilience
Salvador is located at the entrance of the Bay of All Saints, the largest bay on the Brazilian coast. The municipal territory consists of a continental portion, surrounded by the sea to the south, east, and west, and an island portion. The island portion gathers four islands (Frades Island, Bom Jesus dos Passos Island, Santo Antônio Island, and Maré Island) and two islets (Santos and Pagãos). The area of the city totals 309 km² (or 692 km², if considered the area of the Bay of All Saints). Salvador has an estimated population of 2,900,319 inhabitants (according to the 2021 IBGE estimate), and a demographic density of 9,386.14 inhabitants per km². The city does not have a rural zone. Overall, 39.5% of its urban households reside on afforested streets.
Salvador has a humid to sub-humid climate, which favors plant growth. Originally, the city had a dense rainforest in its higher elevation areas; sandbank vegetation (known as "restinga") on dunes, plains, and beaches; and mangroves in the estuaries of the rivers that flow into the ocean. All of these vegetation types (forest, sandbanks, and mangroves) are part of the Atlantic Forest biome, and legally, sandbanks and mangroves are considered their own associated ecosystems.
The city still has some significant forest remnants. The study "Vegetation Diagnosis of the Atlantic Forest Biome in the City of Salvador," conducted by the Public Prosecutor of the State of Bahia, identified 270 plant species. It concluded that the city's forest fragments reach 5,249 hectares, of which more than a half (56%) is in a middle growth stage and 0.9% in an advanced stage.
Salvador is one of the 2,481 Brazilian municipalities with their territories fully included in the Atlantic Forest biome, a biological unit rich in biodiversity with varied forest formations and associated ecosystems, such as sandbanks and mangroves. Yet, the Atlantic Forest is also the most endangered biome on the planet. Even with the forest's characteristic exuberance, the reduction of its main green areas has continued. The creation of new parks, the institutionalization of conservation units, and the intensification of urban revegetation actions can contribute to the protection and reversal of this situation.
As part of the Atlantic Forest, the city of Salvador has the potential to become the national capital of this biome. To achieve this goal, the City Hall launched in 2017 the Program for Access to Green Areas, Popularization, Conservation and Expansion of the Atlantic Forest Biome in Salvador (also known as Salvador, Capital of the Atlantic Forest program), which articulates a series of ongoing initiatives and new actions that promote the sustainable development of the city while protecting the Atlantic Forest.
Institutional actions include the expansion of the preservation and restoration of forest fragments. Salvador went from only four conservation units and five urban parks (established in the 2008 plan) to 12 conservation units and 13 urban parks by 2021. Today, green spaces for physical activities, contemplative leisure, and scientific research in the municipality total of 42 million m².
In 2016, Salvador was also selected to be part of the Rockefeller Foundation's 100 Resilient Cities Program (100RC). Urban resilience is understood by the program as the ability of individuals, communities, institutions, and systems within a city to survive, adapt and grow regardless of the shocks and chronic stresses to which they are subjected.
Thus, the Resilience Strategy developed by Salvador's City Hall aims to promote a greater connection between policies, and more transversality in initiatives to address urban problems, both in the short and long term. Salvador defined five pillars of action to become more resilient until 2049 when the city celebrates its 500 years anniversary. They are: 1) Culture and Multiple Identities; 2) Healthy and Engaged Community; 3) Diversified and Inclusive Economy; 4) Informed City and Innovative Governance; 5) Sustainable Urban Transformation.
Drawing upon these five pillars, the city establishes actions to improve resilience, such as: meeting the basic needs of the population; guaranteeing social stability, security and justice; providing and enhancing natural and built protective assets; providing reliable communication and mobility systems; encouraging integrated and long-term planning; promoting effective leadership and management; and promoting cohesive and committed communities.
Salvador's taking big steps to preserve and restore conservation units, parks, and other remnant forest fragments of the Atlantic Forest in Salvador. These efforts continue to help expand and improve the access to green spaces for Salvador's residents.
STORY
A Sacred Leaf Garden In Pedra De Xangô
Labeled a protected geological site since 2017, Pedra de Xangô (Xangô Stone) is a natural rock formation near the city of Salvador, in the State of Bahia, Brazil. Located in one of the last remaining areas of the Atlantic Forest biome, Pedra de Xangô is also near to one of the largest housing estates in Latin America. Pedra de Xangô is considered by locals to be a mythical cultural heritage site and an important representation of their culture, and as such, activities have begun to enhance the area with the plantation of a 5-hectare park.
With a strong African influence, the spiritual traditions of the region are closely connected to its forests and rivers. The ancient concept of Orixá refers to the forces existing in nature, and ancient communities of the region used the expression "Kósí Ewê, kósí Òrìxá", meaning "If there is no leaf, there is no Orixá", depicting the importance of the area's rivers and forests for these spiritual traditions to exist. Many local people still follow the philosophy of Candomblé, a religion closely linked to the natural elements. The region is affected by increasing urban expansion, which is a concern for spiritual leaders, as the native plants being lost to urbanization are used for a variety of purposes: from initiation ceremonies to simple healing teas. Everything in Candomblé depends on the leaves: for example, on traditional festival days, while the Ogan people sing songs calling the Orixá onto the land, the leaves on the ground are considered crucial for the host to come, greet, and bless his children and guests.
The city of Salvador is currently experiencing large urban expansion, putting at risk many of the region's forests. Many Candomblé communities have become concerned about the preservation of their culture, and as such, the holy people of several Candomblé communities have joined the City Hall of Salvador with the hope of collectively recovering the green areas that were lost from poorly-managed urban growth. As a result, the Pedra de Xangô Park was created in one of the few remaining green areas of the city. The plantation project is being implemented by the Secretariat of Sustainability, Innovation and Resilience (SECIS), the Mário Leal Ferreira Foundation (FMLF) and the Gregório de Matos Foundation (FGM).
Candomblé groups such as the Terreiros of Mutalômbô Yê Kaiongo, Ilê Axé Oxalufã, Vodun Kwe tò zò, Ilê Axé Obá Baba Séré Ilê, Axé Odé Toqueji Lodemim, and residents of Cajazeiras and surrounding areas have carried out the planting of sacred trees in a location close to the Xangô Stone. Offerings were placed for the deities Oxossi and Ossain, and for the caboclo entities who also inhabit the forests, asking for permission and blessings for the remaining Atlantic Forest, hoping for the recovery of its trees, leaves, streams and springs. Each Terreiro – Candomblé community – donated a seedling, all of which were planted and blessed with rituals and songs, for these trees to be used for religious, medicinal and food purposes in the future by the people who live close to the park. Each seedling was planted with love, faith and hope for the region's preservation. The morning of the planting – 8 June – was magical. One could feel the peace that nature provides, and there was a sense of fulfilled desire and accomplished mission. The deity Ossain was present, his energy felt by everyone there. Volunteers were assigned to take care of the seedlings, watering them when necessary. Thanks to this initiative, Terreiros that have lost their forest area and have little green space left will now be able to harvest the leaves that are essential for their rituals.
Preservation of the remaining Atlantic Forest is essential for this sacred area, one of the main symbols of the remaining African religions of this part of Brazil. The park will occupy 546.30 square meters and will have an amphitheater and open-air trails. Plans for the preservation of the Pedra de Xangô Park also include an auditorium and a protected space for exhibitions, all using materials with low environmental impact and high ecological value. In addition, the proposal for the creating an Environmental Protection Area (Protected Area for Sustainable Use, according to IUCN categorization) has created a strong mobilization of civil society for the protection of this area, especially researchers and followers of religions of African origin.
Written by Sônia Mendes Reis Nascimento Silva, Administrator; Master student in Architecture and Urbanism; Ya Egbé do Terreiro Oxalufã; volunteer in the working group created by SECIS for the implantation of Pedra de Xangô Park and Protected Area for Sustainable Use of Vale da Avenida Assis Valente
HISTÓRIA
Um Jardim de folhas sagradas no Parque Pedra de Xangô
Elemento de resistência cultural, tombada como patrimônio geológico em 2017, a Pedra de Xangô (Xangô Stone) terá a sua proteção reforçada com a implantação de um parque que ocupará uma área com cerca de 5 ha, onde há predomínio de espaços de convivência em meio aos últimos remanescentes de Mata Atlântica em Cajazeiras, um dos maiores complexos de conjuntos habitacionais da América Latina, em tamanho e em população.
Os Orixás representam as forças existentes na natureza. Eles precisam das matas e rios para existir – por isso os antigos diziam "kósí Ewê, kósí Òrìxá", isto é, se não há folha, não há Orixá. O Candomblé está estreitamente ligado aos elementos da natureza: as plantas são fundamentais para banhos e rituais de purificação. Nesse contexto, os objetos adquirem nova dimensão, compartilhando uma sacralidade necessária à ordem cosmológica.
A perda desses espaços para o povo de santo é muito preocupante, pois as folhas são usadas com muitas finalidades, de um simples chá curativo até a iniciação de uma pessoa. Tudo no candomblé depende das folhas. Em dias de festa, enquanto os Ogans entoam cantigas chamando o Orixá em terra, as folhas no chão do barracão são determinantes para que o anfitrião venha saudar e abençoar seus filhos e convidados. Mas é quase impossível preservar matas em um contexto de expansão da ocupação urbana acelerada como ocorre em Salvador. Cada vez mais os terreiros, antes com espaços privilegiados por manterem suas matas, riachos e fontes, começaram a se tornar "terreiros de laje", se organizando em um ou mais pavimentos de edificações sem áreas verdes.
Pensando na preservação de sua cultura, o povo de santo de vários terreiros se uniu à Prefeitura de Salvador com a esperança de reaver, coletivamente, um pouco do verde que grande parte dos terreiros de Cajazeiras e adjacências perdeu com o crescimento urbano desorganizado. Assim foi idealizado o Parque Pedra de Xangô, um projeto que está sendo implantado pela Secretaria de Sustentabilidade Inovação e Resiliência (SECIS), Fundação Mário Leal Ferreira (FMLF) e Fundação Gregório de Matos (FGM), em uma área que abriga o pouco de verde que resta naquela parte da cidade.
Os terreiros Mutalômbô Yê Kaiongo, Ilê Axé Oxalufã, Vodun Kwe tò zò, Ilê Axé Obá Baba Séré Ilê, Axé Odé Toqueji Lodemim e moradores de Cajazeiras e adjacências organizaram, com apoio da SECIS, um plantio de folhas sagradas em um local próximo à Pedra de Xangô. Estavam presentes filhos e sacerdotes. Antes, foram colocadas oferendas para Oxossi, Ossain e para os caboclos que habitam as matas, pedindo licença e benção para que o resquício de Mata Atlântica antes ali existente voltasse a ser frondoso, repleto de árvores, riachos e nascentes. Cada terreiro doou uma muda, e elas foram plantadas com rituais e cânticos para que, no futuro, possam ser utilizadas para fins religiosos, medicinais e alimentares pelas pessoas que vivem próximo ao Parque.
Cada muda foi plantada com um misto de amor, fé e sentimento de preservação. A cada plantio, a emoção tomava conta dos presentes, que expressavam alegria através dos cânticos litúrgicos que se referiam ao Orixá responsável por aquela folha. Segundo uma lenda, as folhas sagradas foram dadas a cada Orixá por Ossain: a Xangô, sangue lavou, akokô e tapororoca; a Iansã, espada de Iansã; a Ogum, peregum; a Ogum e Oxóssi, aroeira. Foram ouvidas rezas, cantigas e paôs (palmas com as mãos côncavas) dos representantes das nações Angola, Ketu e Jêjê.
Aquela manhã de oito de junho foi mágica. Via-se nos rostos uma sensação de missão cumprida com a espiritualidade, o local exalava a paz que a natureza produz no ser humano. Ossain se mostrava presente, a energia dele era sentida por todos. Ficou sob a responsabilidade de voluntários acompanhar e cuidar das mudas, regando-as quando necessário. Com essa iniciativa, espera-se- que os terreiros que perderam sua área de mata e têm pouco verde em seu entorno possam voltar a coletar, na área do Parque Pedra de Xangô, as folhas que são tão necessárias para os fundamentos e rituais dentro do terreiro.
A manutenção da vegetação remanescente de Mata Atlântica é prioridade para reforçar o caráter sagrado do local, um dos principais símbolos de religiões de matriz africana na cidade. O parque ocupará 546,30 m², e contará com anfiteatro e trilhas a céu aberto. Também está prevista a criação de área administrativa com um espaço destinado para exposições, auditório, e sanitários, tudo com o uso de materiais de baixo impacto ambiental e de alto valor ecológico. Além da preservação do patrimônio, a proposta para a implantação do parque e de uma Área de Proteção Ambiental (Área Protegida de Uso Sustentável, conforme categorização IUCN) atende a uma forte mobilização da sociedade civil, especialmente dos estudiosos e adeptos das religiões de matriz africana.
escrito por Sônia Mendes Reis Nascimento Silva, Administrator; Master student in Architecture and Urbanism; Ya Egbé do Terreiro Oxalufã; volunteer in the working group created by SECIS for the implantation of Pedra de Xangô Park and Protected Area for Sustainable Use of Vale da Avenida Assis Valente